Release 20120712 - In-app updater
July 17, 2012 in bliss by Dan Gravell

At last! After several weeks of work, bliss has been updated to boast its very own in-app, self-updater. The in-app updater will check to see if a new version of bliss is available. If you want to upgrade to the latest version, an 'Update' button performs the update without you having to re-install bliss. It doesn't even need to restart!
bliss's mooted in-app updater has garnered a number of supporters in the ideas forum , so I thought it was about time it was implemented! Nice idea in theory, except in practice I met with numerous considerable obstacles. Now, however, I think it's ready to go live. So here goes!
To get to the Updater page, click the 'Update' link at the bottom of any of bliss's pages: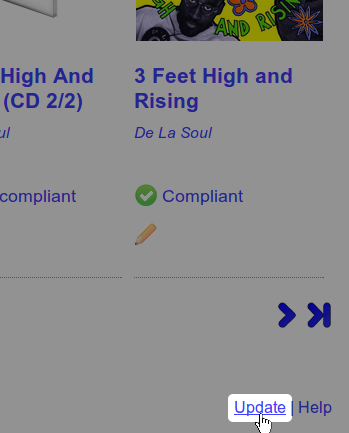 What you see on the update page depends on whether this is the latest version or not. If it is the latest version you'll see:

Once there is a new version available you'll see:

Click the 'Update' button and bliss will be updated. bliss should not need to be restarted. Note, however, that there's no progress indicator yet for updating. I'd expect updates to take up to five minutes, as bliss has to download the latest version.
Download the new release from the downloads page. In the next release I'm looking forward to also saying "... or update existing installations from the update page"!
Your existing fixes will continue to work!