Release 20141204 - filter by compliance type
December 09, 2014 in bliss by Dan Gravell
The big new feature in this release is the ability to filter albums by compliance type; now you can find albums that have non-compliant artwork and ignore those with non-compliant file paths. In addition there are some important fixes for tag lookup and OS X performance.
Compliance type filters
As new rules have been added to bliss I've had to think of new ways of displaying the compliance of given albums. If multiple rules are enabled then a simple "non-compliant" filter isn't useful in all situations; you might only be interested in missing cover art, for example, and not errant file paths.
As a result, this idea to filter albums by compliance type has gathered great momentum, becoming the top voted idea in the bliss ideas forum. There was a fair bit of background work to do to support it, so it has taken a month or so, on and off, but it's now ready!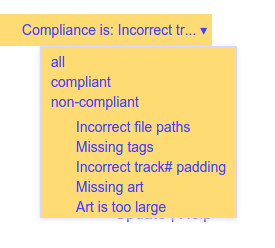 New options are now offered under the non-compliance filter. Clicking one of them, for example Incorrect file paths in the screenshot above, shows all albums which are non-compliant for the clicked reason. In that example, all albums that have incorrect file paths.
Only those rules that are enabled should show in the box.
This leads to some useful improvements in usability. Other than the general case, missing artwork can now be easily fixed by using the Missing art filter as above, then choosing to show Cover art alternatives from the Show menu.
Further improvements
There's more!
Fixed false positives for common mixed case names ("Mc, Mac, Le") in the case rules
Fixed year and genre retrieval
Re-enabled a setting in the OS X app which disables App Nap
Downloading and installing
You can download from the downloads page. After you click through, installation instructions are available on the page following download.
If you are updating from a version older than a month or two, in app update is not recommended for this release, because of a fixed Java 8 incompatibility which is only resolved with a full re-installation.
Thanks to VinothChandar for the image above.