Release - 20170418 - track level tag correction
April 25, 2017 in bliss by Dan Gravell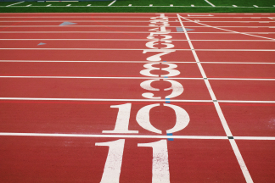 Following on from the introduction of tag correction in the last release, this new release moves from album-level metadata to track-level. Specifically, bliss now allows track names to be checked for accuracy. At the album level, we now also allow checking the compilation tag.
In addition there are some big changes on the album detail page with the addition of a list of tracks (to support the track name compliance feature mentioned above) and various tweaks to the appearance of this page.
Track name accuracy
To enable checking for track name correctness, click the option in the settings: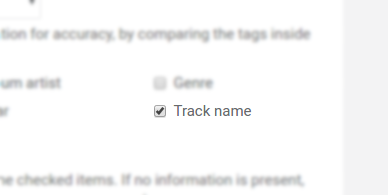 Then Apply rules, as ever.
Once an album is scanned, the summaries of compliance on the album grid will show you whether a track name is incorrect. Importantly, we've also added a track listing to the album detail page. The compliance is shown here, with a one click fix:

Of course, that list of tracks could be useful for a lot of reasons... we could adapt it to allow tag editing or maybe even allow a playback button to listen to the track so you can identify it yourself, for tagging purposes...
Further work on tag correction is going to mainly focus on adding more tags to the mix (disc number and track number are the main ones on the horizon at the moment) while also incorporating feedback.
It's important to receive feedback because I suspect there are some reasons that tag correction may not be everyone's "cup of tea" at the moment; for example it's strict about punctation and capitalisation, which maybe not everyone wants.
Strict compilation checking
As an aside, this release also adds compilation checking. This is worth an extra discussion because of the way it works.
Unlike the other tags, which will ignore the tag if there's no data currently in your library, bliss always checks whether an album is a compilation or not. So if you have a compilation album without the compilation tag, bliss will always suggest setting it.
I'm calling this "strict" correctness checking at the moment...
More improvements
Fix occasional issues when changing album or artist name.
If there's an update problem, failover to the last good version.
Disable all fields in settings when a rule is disabled.
Make the select fields shorter.
Make the album grid boxes the same width, allowing more than three/four on a line.
Truncate button text on the album detail page.
Show more information about failures on the activity page.
Make the album detail page more lined-up.
Split tag correction fixes in the Inbox by tag.
Downloading and installing
You can download from the downloads page. After you click through, installation instructions are available on the page following download.
In app update will only work for release 20170307 and later. That's because of a fix in 20170307 following the changes introduced in 20170209 which I wrote about in my call for beta testers. Users on older versions should download the latest and install manually, and from then on in-app update should work again.
Thanks to Kolleen Gladden for the image above.