Release 20150825
September 01, 2015 in bliss by Dan Gravell
Back to short release cycles now, I hope! This new release contains a new 'trimming' rule and a number of other useful improvements.
Whitespace trimming
The 'trimming' rule is a new rule to trim the whitespace from the beginning and end of tags. Any whitespace: spaces, tabs, carriage returns; can be removed. Simply choose the tags you want to remove any whitespace from: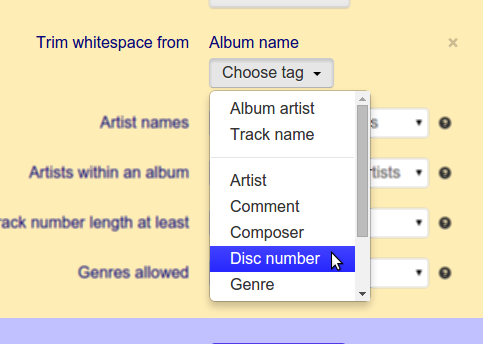 On each scan, bliss will check the tags you have chosen and, if any include whitespace at the start or end, will suggest it be removed with a one-click fix.
There's also an undocumented, initially unsupported way of contributing your own regular expression rules. Contact me or leave a comment if interested and I can write up the basic instructions.
I intend to develop this further but only if there's some interest. The regular expression rules consist of simple "find and replace" pairs.
Further improvements
We've also worked on:
Handle apostrophes in case rules
Ignore 'EP' in case rules
Add extra tags to the case rules selector
Downloading and installing
You can download from the downloads page. After you click through, installation instructions are available on the page following download.
If you are updating from a version older than 20141027, in app update is not recommended for this release, because of a fixed Java 8 incompatibility which is only resolved with a full re-installation.
Thanks to Ivy Dawnedfor the image above.