Release 20140423 - case rules
April 29, 2014 in bliss by Dan Gravell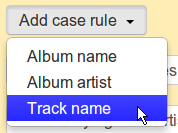 This new release includes case rules - the ability to ensure album, artist and track names comply with a pre-defined case style.
Case rules!
So at long last, this release includes case rules!
This first release allows you to set a case rule each for album names, artist names and track names. The case rule itself can be one of a number of case styles:
| Case rule | Example |
| --- | --- |
| Lower case | ladies and gentlemen we are floating in space |
| Sentence case | Ladies and gentlemen we are floating in space |
| Title case | Ladies And Gentlemen We Are Floating In Space |
| Title case (except closed class) | Ladies and Gentlemen We Are Floating in Space |
| Upper case | LADIES AND GENTLEMEN WE ARE FLOATING IN SPACE |
bliss applies the style to your tags and, if they don't match, offers a one-click fix.
Let me know how this should be extended via the Ideas Forum. Different tags to be supported? New case styles? Full automation? Let me know!
More stuff
Optimised queries to OneMusicAPI a little, making queries faster, more likely to match and also more accurate
Fixed album 'tiling' in the album overview page to avoid 'snagging' where tiles are different heights
Show progress when clicking a fix in a fix dropdown
Allow the maximum image size bliss will process to increase in line with assigned memory
Ignore #recycle folders (these are created on Synology when accessed via a Windows CIFS share)
Fixed a bug to allow setting track number to a plain or padded integer in an MP3 when there's an existing track number total field
Downloading and installing
You can download from the downloads page. After you click through, installation instructions are available on the page following download.
The in-app updater can be used by existing users. You can also download the latest installer and install it "over the top", replacing the current installation. Fixes licences, already purchased, will be retained!