This month in digital music libraries - November 2021
November 24, 2021 in digital music by Dan Gravell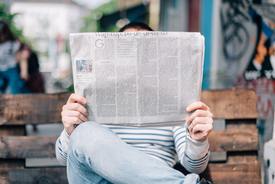 In this months edition: predictions for the future of music, enormous-but-slow backup media, Adele's an album-gal and ludicrous patents.
Predictions for the future of music
An interesting piece on how the author predicts current trends in music will end up. This mostly concentrates on the music industry from the point of view of a participant, i.e. artists, record labels etc, rather than a consumer.
Twelve predictions for the future of music https://t.co/1QNiUhaJaJ ooof - some painful ones in there for an #albumguy e.g. "listeners will have favorite new songs, but not know (or care) about the name of the artist". Probably already happened! Thanks @tedgioia

— bliss (@bliss_music) October 28, 2021
"5D" physical storage - densities 10,000x greater than Blu-Ray!
This is one of those "researchers have found…" stories that might not mean anything in the short term, especially given the speeds for this technology are so slow. However, it's a reminder that no matter how advanced we think modern technology is, it will only get more capacious.
Just in case you were worried about running out of space on your backup media... https://t.co/xXdzPJS1c3 pic.twitter.com/OsvFwIFpIe

— bliss (@bliss_music) November 6, 2021
Adele sticks it to the playlisters.
I'm not sure if we should cheer Adele for sticking up for the album-listeners, or worry that this is another sign that streaming externalises control over your music listening…
This was the only request I had in our ever changing industry! We don't create albums with so much care and thought into our track listing for no reason. Our art tells a story and our stories should be listened to as we intended. Thank you Spotify for listening 🍷♥️ https://t.co/XWlykhqxAy

— Adele (@Adele) November 21, 2021
Patenting abstract concepts
Should this even be patentable?
Nice try Google. I am sure it seemed like a good idea when Sonos introduced it to you and felt just like something you would naturally do but that's not the same thing as conceiving it.

Sonos proposed it to Apple as well, they just didn't move on it quickly. https://t.co/8FPf5hWsF8

— John MacFarlane 🤗😌🙏🏻 (@JohnLMacFarlane) November 17, 2021
Photo by Bruno Bučar on Unsplash