This month in digital music libraries - December 2020
December 21, 2020 in digital music by Dan Gravell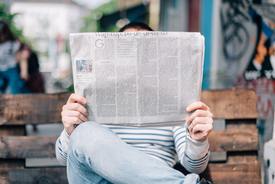 This month's round up for digital music collectors! This month: privacy and audio devices, a beautiful looking new album art-focused music player launches in Indiegogo, QNAP vulnerabilities and Apple Airpod Max headphones are launched.
Are your audio devices snooping on you?
Seems like every day brings some sort of new "is your X device snooping on you" kind-of-story, so it's tempting to insert fingers-in-ears and whistle.
The trouble with being good little quiescent consumers, though, is that if we don't push back, those that are snooping will continue doing so, and with no checks on this behaviour the invasiveness and degree of unrecognised data collection may just increase.
Are your audio devices snooping on you? https://t.co/aHtJvIbSJ8 #bigbrother via @audiophilestyle

— bliss (@bliss_music) December 3, 2020
Sleevenote's Indiegogo campaign continues
It's great seeing these targeted, single use case devices be launched. Yes, Swiss Army Knife style OSes on your phone are all well and good, but that doesn't necessarily derive the most immersive and musical experience.
A very smart (hardware) music player that puts its album artwork front-and-centre! https://t.co/Puy4i90r7b @sleevenote pic.twitter.com/JuHObgEp7g

— bliss (@bliss_music) December 5, 2020
QNAP vulnerabilities
QNAP warned of some signficant vulnerabilities in their NAS devices - keep up to date!
QNAP users - make sure to keep up to date! https://t.co/8TrkmdKrTn (thanks @threatpost @LindseyOD123 ) pic.twitter.com/JHsAEOb2Ow

— bliss (@bliss_music) December 11, 2020
Apple enters the over-the-ears heaphone market
Audiophile price… audiophile quality? But note - Apple devices only.
ICYMI #Apple enter the over ears headphone market https://t.co/07LiTaHwU6 . Time will tell if the $549 constitutes good value. Also note: works with Apple devices only. pic.twitter.com/PUBRS6U1hq

— bliss (@bliss_music) December 13, 2020
Photo by Bruno Bučar on Unsplash