Shanling album art
May 28, 2019 in bliss by Dan Gravell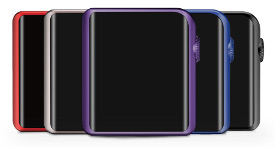 This week, let's review album art support for Shanling. Shanling are another manufacturer of high-end portable music players, but this time with a difference.
Shanling makes a range of portable high-res players, amongst them the diminutive M0 music player. Broadly, all of Shanling's devices have reasonably-sized screens to make browsing your library easier.
Album covers are important; they makes browsing and identifying music easier... plus it just looks cool!.
The Shanling player needs to know where the cover art in your library is located. It won't show artwork if (a) it's missing or (b) it's not stored in the correct manner.
Shanling do document the rules for displaying artwork in some of their manuals. Unfortunately, not all devices they make have such documentation. However, combined with research posted online by other Shanling users I was able to gather together a basic list. If you have any to add, please let me know in the comments below! The rules I found are:
We can encode these rules in bliss, meaning we can automate the fixing of our existing artwork and also store the rules so we don't have the same problem with music acquired in the future.
Step by step
First, download and install bliss. There are downloads for other platforms on our download page in case you're downloading for a NAS or some other device.
After installing, start bliss; the first page will allow you to locate your music files and configure bliss to fix album art: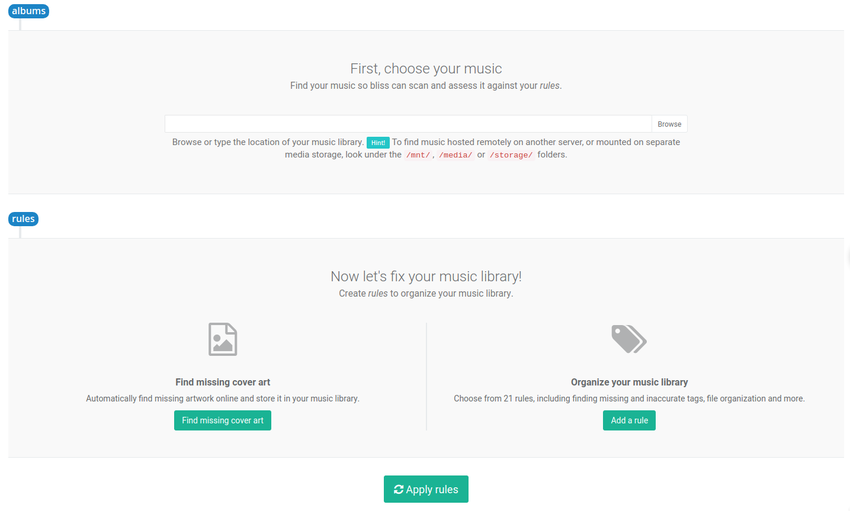 Now, locate your music library in the albums section. Use the Browse button to find the folder in which your music is stored. You can do this directly on the device if it's connected to the computer and the drive is mapped to a drive name (Windows) or mounted to a folder (macOS, Linux).
Now we can configure the rules we listed above. First click the Find missing cover art button. This allows us to set the locations for cover art. Here we encode the rules above:
Here, I've elected to save embedded artwork and the image file in a separate cover file (this will mean cover.jpeg or whatever extension is appropriate for the format of the image file).
Click Add rule; this just saves the rule, it won't apply it yet.
We also need to add an image format rule to allow just JPEGs. Click Add a rule > Image formats > Configure and then select the appropriate size: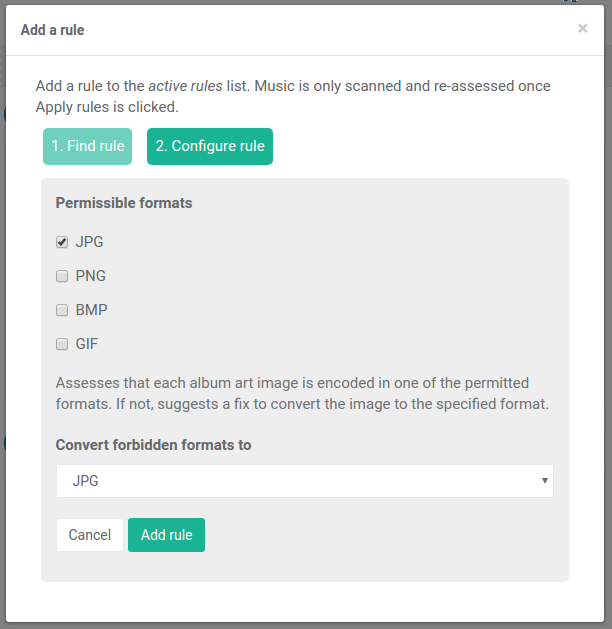 We should also add a rule for the maximum data size. Click Add a rule > Maximum data size (KB) > Configure and then select the appropriate formats: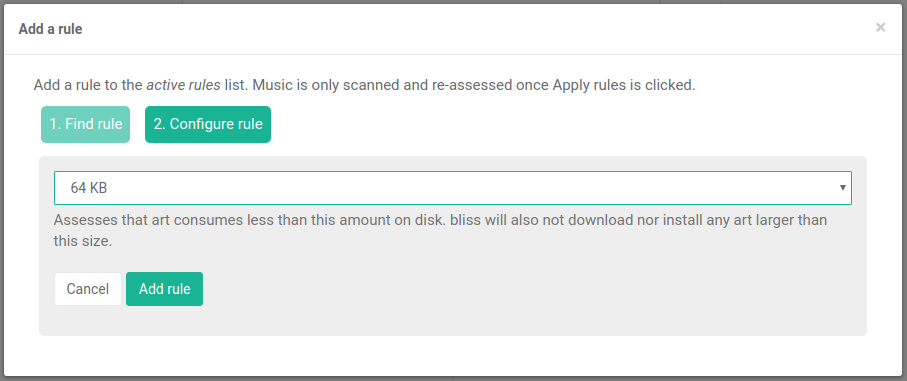 After you click Add rule you'll notice the Manual/Automatic switch. This configures bliss's behaviour when it sees a non-compliant piece of existing art. If you already have art and it's too large, and you have this set to Automatic, bliss will shrink the artwork for you. Otherwise, you'll get a one-click fix to perform the down-sizing manually.
Now our rule list is complete:

Click Apply rules to start bliss scanning for albums and fixing artwork.
Any album missing a cover.jpeg or embedded art will have those filled. In order of preference, bliss uses existing art first (from cover.jpeg or embedded if they exist) or if there's no existing art, bliss performs a lookup and finds the artwork online, embedding it in the right places.
Any existing artwork which is not in the correct format or is too large will be identified. The size rules can be automated, but the image format rule will not be fixed automatically. We'll get a one-click fix for that later.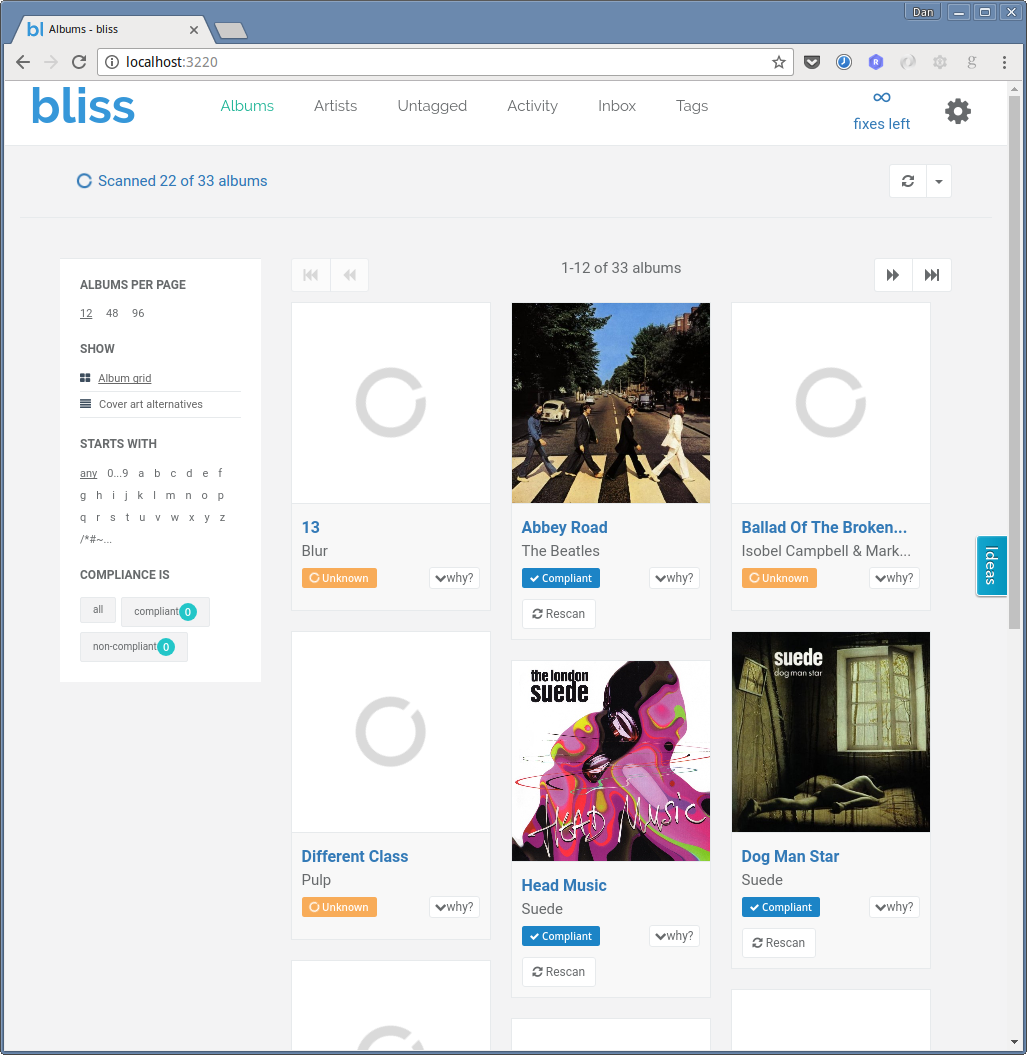 Artwork that is non-compliant is marked against the album: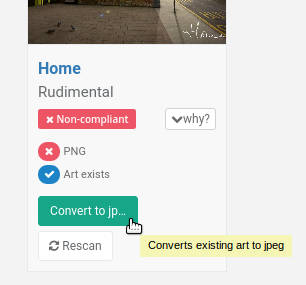 You can also make multiple fixes together on the Inbox page.
One final step
Normally the new album art will be picked up automatically, but otherwise you might need to "rescan" the updated music files to find any newly added or fixed album art.
At the time of writing we couldn't find instructions to do this, but please let us know in the comments if you can describe this and we'll update the post.
---
I hope this helps fixing your album art for your Shanling device! If you have any more tips about organising your music library for these devices, please let us know in the comments (or send us an email).