Release 20190513
May 21, 2019 in bliss by Dan Gravell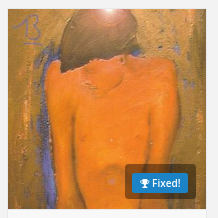 More small UX improvements and bug fixes in this version...
This week's tranche of UX improvements are:
Albums in the albums page that have been fixed in the last rescan cycle, or manually, show a "Fixed" badge.
Don't show the Apply Rules popover twice on first-use.
More improvements
What else have we been up to?
When there's no artwork and the max data size rule is enabled, don't show a blank line in the "why?" dropdown.
Log when images are resized.
Log when bliss is stopped gracefully.
Include fatal error logs in debug archives.
Extra steps to avoid CSS caching.
Downloading and installing
You can download from the downloads page. After you click through, installation instructions are available on the page following download.