Windows Explorer tag editing - sometimes simple is best
July 03, 2018 in digital music by Dan Gravell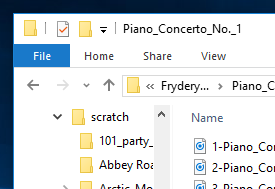 Think of a tag editor and there are a bunch of common options. MP3Tag, Picard, Tag&Rename... but for Windows users there's a lesser known editor that comes for free: Windows Explorer!
It's true that Windows Explorer's tag editing capabilities are not advanced. There's little low level control, no batch editing actions and no automation. But for certain situations, where you just need to make a simple change to a few files, it can be invaluable.
Having low friction solutions to problems is a powerful thing. I thought the same about file format converters, so I wrote this matrix. Here's how you can use Windows Explorer to no-fuss, free tag editing.
Editing MP3 tags in Windows Explorer
Editing your music tags in Windows Explorer is pretty easy. Fire up Windows Explorer, then find your music files. Right click a file and click Properties: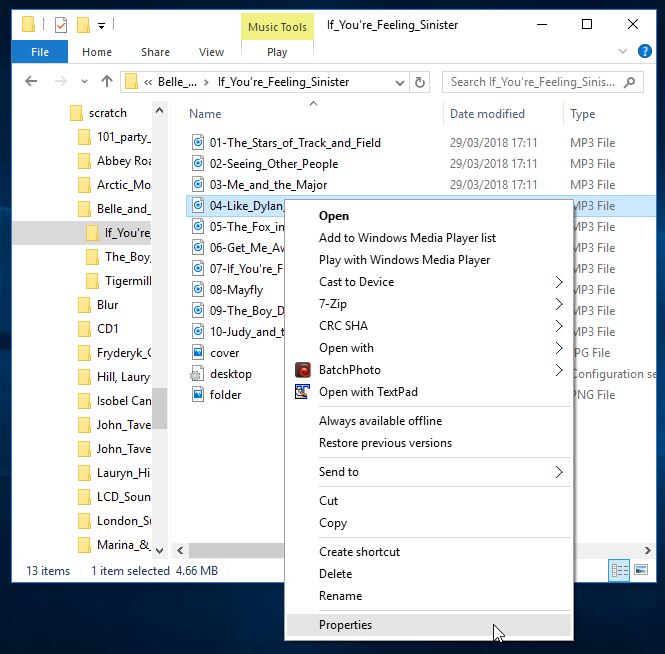 In the resulting dialog box, choose Details and there you have all of your tags: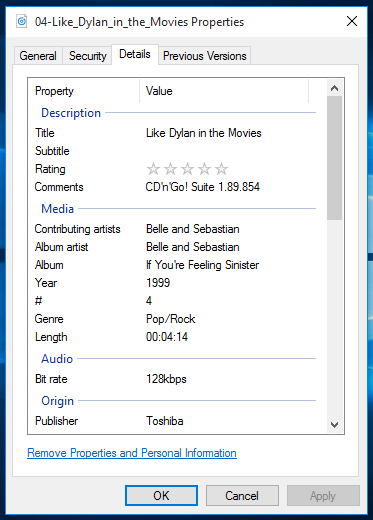 Editing the tags is now as simple as changing the Value for the field you want to change. Once happy, click OK or Apply.
It's not all that simple...
There's one caveat - the values you are changing don't always end up in the files (see Unmapped below), and sometimes the fields they end up in don't always make sense.
Windows Explorer tag mapping
So I did some research and produced a mapping table so you know which tag each of the properties changes.
Property
MP3
WMA
MP4
FLAC
Description
Title
TRACK TITLE
TRACK TITLE
TRACK TITLE
TRACK TITLE
Subtitle
SUBTITLE
SUBTITLE
Unmapped
Unmapped
Rating
RATING (WMP)
RATING (WMP)
Unmapped
Unmapped
Tags
Not shown
CATEGORY
Unmapped
Unmapped
Comments
COMMENT
COMMENT
COMMENT
Unmapped
Media
Contributing artists
ARTIST
ARTIST
ARTIST
ARTIST
Album artist
ALBUM ARTIST
ALBUM ARTIST
ALBUM ARTIST
ALBUM ARTIST
Album
ALBUM
ALBUM
ALBUM
ALBUM
Year
YEAR
YEAR
YEAR
YEAR
#
TRACK
TRACK
TRACK
TRACK
Genre
GENRE
GENRE
GENRE
GENRE
Length
[not a tag, taken from audio file header]
Audio
Bit rate
[not a tag, taken from audio file header]
Origin
Producers
Not shown
PRODUCER
Unmapped
Unmapped
Publisher
PUBLISHER
PUBLISHER
Unmapped
PUBLISHER
Content provider
Not shown
CONTENTDISTRIBUTOR
Unmapped
Unmapped
Media created
Not shown
Unmapped
Unmapped
Unmapped
Encoded by
Not shown
ENCODER
Unmapped
ENCODER
Author URL
WWWARTIST
WWWARTIST
Unmapped
Unmapped
Promotion URL
Not shown
WWWCOMMERCIALINFO
Unmapped
Unmapped
Copyright
Not editable
Not editable
Not editable
Not editable
Content
Parental rating
Not shown
PARENTALRATING
Unmapped
Unmapped
Parental rating reason
Not editable
Not editable
Not editable
Not editable
Composers
COMPOSER
COMPOSER
COMPOSER
COMPOSER
Conductors
CONDUCTOR
CONDUCTOR
Unmapped
CONDUCTOR
Group description
CONTENTGROUP
CONTENTGROUP
Unmapped
Unmapped
Period
Unmapped
PERIOD
Unmapped
Unmapped
Mood
Unmapped
MOOD
Unmapped
MOOD
Part of set
DISCNUMBER
DISCNUMBER
Unmapped
Unmapped
Initial key
INITIALKEY
INITIALKEY
Unmapped
Unmapped
Beats-per-minute
BPM
BPM
BPM
Unmapped
Protected
Unmapped
Unmapped
Unmapped
Unmapped
Part of a compilation
COMPILATION
COMPILATION
COMPILATION
COMPILATION
Some definitions:
Unmapped

Allows editing and saving, but the results are not stored in the underlying music file.

Not editable

The value is displayed but cannot be edited.

Not shown

The property is not displayed.
We can see that, perhaps not surprisingly, Microsoft's own WMA format is best supported, and the popularity of MP3 means it takes a solid second place in the support stakes. While less well supported, the fact that FLAC works at all is a positive in my book; this wouldn't have been the case a few years ago!
In addition, I tested with a WAV file and an Ogg Vorbis file. The WAV file showed the fields but did not allow them to be edited, despite Microsoft introducing the RIFF format. The OGG file was not even recognised as a music file and offered no extended properties.
Inline editing in the Details Pane
An extra approach: It's potentially more convenient to edit tags using the Details Pane. Click the View ribbon, then in the Panes group click the Details pane button. This shows a new area to the right of the selected file.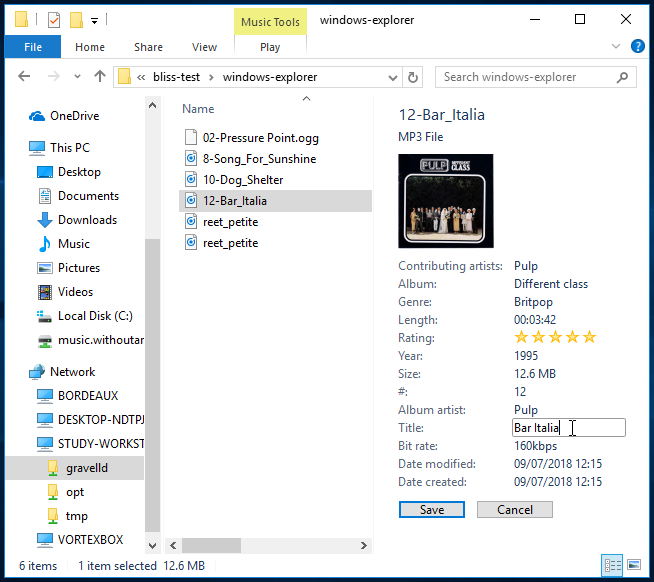 Click on a supported music file, then press Tab twice, and you can tab through the different fields, pressing Save when finished.
---
If you've anything to add to this, leave a comment and I'll see to updating the article!