Release 20160919 - new licencing model
September 20, 2016 in bliss by Dan Gravell
A lot to get through this week, this update is a big 'un!
The main work in this release relates to the previously announced change to licencing. From now on, bliss licences will work indefinitely but will only work on versions of bliss released up to one year after licence installation. You will be able to purchase a lower priced licence to unlock another year's updates (currently this is expected to cost £9).
But there's lots more in this release besides those licence changes.
The album list is now ordered case insensitive. The "clear and rescan" dropdown button has lost its scrollbar.
The UI now pops up automatically on first use. For existing users, bliss won't pop up and will work as before. But for new users the browser will pop up when the application is started. You can enable/disable this via the System Tray icon: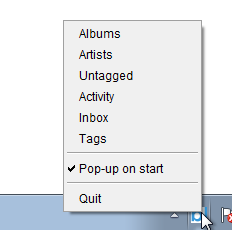 When restarting with a new version I've reestablished the old behaviour that bliss rescans automatically, even if you have Listen for notifications unchecked.
A number of improvements have been made to the file scanning code. Firstly, in the case of multiple music folders, cancelling a scan would sometimes lead to a deadlock when subsequent rescans wouldn't work. That's fixed. Also, bliss better handles issues in the file system when scanning, such as permissions and symbolic link cycles.
A few improvements to the settings page:
The Listen for notifications checkbox can be clicked on first use.
Deletion icons for music folders (to make bliss forget a music folder) only show when more than one folder has been configured.
Finally, I fixed a problem in the trim rule, which wasn't correctly fixing multiple trailing spaces.
Downloading and installing
You can download from the downloads page. After you click through, installation instructions are available on the page following download.
Thanks to marke1996 for the image above.