Squeezepad: a mobile, large screen Squeezebox controller
October 19, 2010 in hardware by Dan Gravell
I've said before that the Squeezebox range of audio devices offer exceptional value for money. They have high quality DACs, can stream lossless music throughout the home and easily cope with large music collections. I just discovered an app for controlling them: Squeezepad.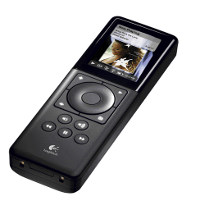 Squeezebox controllers have always been a little, as we say in the UK, naff. Some are small and do not show cover art. Others are a little larger and show art, but not in its full high resolution glory. Personally, I use the Squeezeplay application to control my Squeezeboxes using my computer, but then it's cumbersome to carry around a laptop!
What would my ideal Squeezebox controller look like?
It would be Squeezebox specific. I don't want to compromise on losing Squeezebox features.
It would show all the cover art in my Squeezebox system
It would be touch based with an intuitive navigation system for my entire music collection
I would be able to control all the Squeezeboxes in the home
Over the past year or so there have been two developments that can deliver my ideal Squeezebox controller.
The first is the emergence of tablet computing with devices such as the iPad as viable consumer products. Tablet computing has been a long time coming, with many false starts, but it seems it's finally here.
The second development is Squeezepad, an iPad app written specifically for controlling Squeezeboxes.
Because it's specific, there are no compromises in support for Squeezebox features. It's also received great reviews. Here's the bad news: I don't have an iPad! After waiting for a decent Squeezebox controller, and then being tempted by Squeezepad's sexy screenshots, I can't have it! I've always considered myself more likely to purchase an Android-based tablet, so either I change my plans or hope Stefan Hansel, the programmer of the Squeezepad, writes a version for Android.
The Squeezepad looks one sexy device for controlling Squeezeboxes.